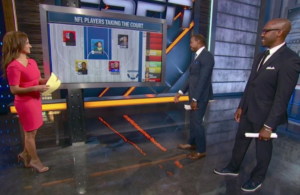 June 16, 2017
|
Comments Off

on Off-season Jamboree: Cross-sport All Star Teams Part 1
NFL Live off-season spin zone may have just hit its peak.  With only 6 weeks (*whispers* training camp coooach) until they have actual things to talk about, NFL Live zigged while the other networks have been zagging.  While other shows are caught up in the GOAT conversation in NBA, NFL Live was somehow able to stay away from it (*slams hand on desk and sternly says* only 6 more weeks until Manning vs Brady talks come back coacher!) and pulled out the GOAT conversation that used to only be tied to Lebron: What NFL players would make up the All Star team in the other Core 4 Sports?  Everyone has heard the Lebron would be an amazing WR (* grumbles* he aint tough enough for the trenches ball coach), Soccer Goalie, and Quidditch Seeker arguments ad nauseam but its time we open up the conversation to what I think were the guidelines by NFL Live: Current/unsigned players that might be on an NFL roster this year.  Also we should note I don't know what the outcome off the team would be, are these just best individual players? Are they saying these 5 players can beat any collection of more players in the NFL or are they supposed to enter the D-League next year as a marketing gimmick? For today we will assume its just the top 5 players basketball players which can fill the most air time. Here is what NFL Live came up with: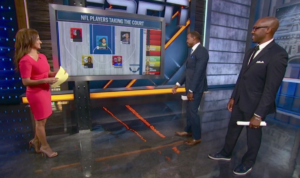 If you can't see in the picture we got a front court of Nico Gathers, Julius Peppers (*screams* we got dat juice!), and Alshon Jeffery; with a back court of Le'Veon Bell and Odell Beckham.  Notably left off the list are Antonio Gates and Jimmy Graham; who as Cris Collinsworth has told you many times did in fact play college basketball before playing tight end.  Because I am going to triple down on hatred for the offseason this will be a multi part write up starting first with Odell Beckham Junior.
Back Court
Odell Beckham Junior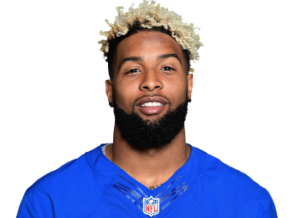 Odell is a vaunted multi-sport athlete with every US soccer broadcast bringing up how he likes soccer and could have been a star for them Odell Bayern Munich
Odell excelled and was a 4 time letter winner in basketball in high school. He also is very fond of posting instagram videos playing basketball.
I am going to have to refer to Law 3 of Instagram "If you instagram something then you never do that thing without gramming it."  This goes for all my workout warriors out there who post gym selfies, vacation pictures, and carnival pictures. Once I know that you post a photo doing these things I have the right to assume you never do it unless its posted online. This tells me in the 534 posts Odell has he only has 2 basketball posts. THE GUY DOES NOT SPEND ENOUGH TIME IN THE GYM!
But what we have learned from this playoff season is a guy like Odell who is head strong and looks out for #1 is not what basketball needs.  You can average a triple double but still get knocked out in the first round if you only looking out for number one (*turns hat backwards and spits* coach you right there coach) My point guard replacement is Doug Baldwin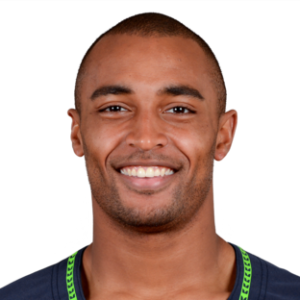 Doug was also a standout in high school, tried to play at Stanford but realized keeping his football scholarship might be better. He then created the high level intramural league so he then could beat up on all the nerds who think they can play at a high level. You want a PG to be able to create (*puzzled stupor* then why not have Antonio Cromartie play point) and Doug can do that on and off the court.  Also most importantly Doug loved playing basketball so much he deleted his instagram.  @doug_baldwin_jr no longer exists so because I never see videos of him playing basketball I can only assume he only plays basketball now.
Next up is Le'veon Bell and we dive deep into his rap career and if that makes him better than Shaq.